Rupture in the US-Pakistan Relations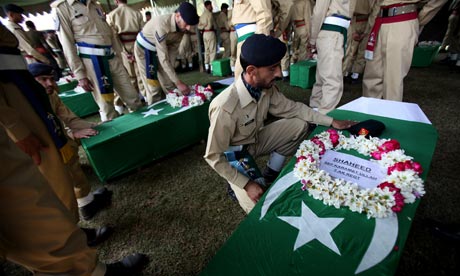 Tensions Flare Between U.S. and Pakistan After Strike
By SALMAN MASOOD and
ERIC SCHMITT
, New York Times, Nov 27, 2011
ISLAMABAD, Pakistan — Pakistani officials said on Saturday that
NATO
aircraft had killed at least 25 soldiers in strikes against two military posts at the northwestern border with
Afghanistan
, and the country's supreme army commander called them unprovoked acts of aggression in a new flash point between the United States and Pakistan.
The Pakistani government responded by ordering the Central Intelligence Agency to vacate the drone operations it runs from Shamsi Air Base, in western Pakistan, within 15 days. It also closed the two main NATO supply routes into Afghanistan, including the one at Torkham. NATO forces receive roughly 40 percent of their supplies through that crossing, which runs through the Khyber Pass, and Pakistan gave no estimate for how long the routes might be shut down.
A NATO spokesman said it was likely that allied airstrikes caused the Pakistani casualties, but said an investigation had been ordered to determine the cause.
In Washington, American officials were scrambling to assess what had happened amid preliminary reports that allied forces in Afghanistan engaged in a firefight along the border and called in airstrikes. Senior Obama administration officials were also weighing the implications on a relationship that took a sharp turn for the worse after a Navy Seal commando raid killed Osama bin Laden near Islamabad in May, and that has deteriorated since then.
"Senior U.S. civilian and military officials have been in touch with their Pakistani counterparts from Islamabad, Kabul and Washington to express our condolences, our desire to work together to determine what took place and our commitment to the U.S.-Pakistan partnership, which advances our shared interests, including fighting terrorism in the region," said Caitlin Hayden, a spokeswoman for the National Security Council.
For complete article, click
here
Related
:
Pakistan outrage after 'Nato attack kills soldiers'
- BBC
Pakistan's reaction to border post air strike leaves Nato tactics in disarray
- Guardian
NATO attack: Suspend supply lines, vacate Shamsi air base in 15 days, DCC decides
- Express Tribune