Who Killed Burhanuddin Rabbani ?
Afghan Peace Council Head Killed in Kabul
By Mirwais Harooni and
Hamid Shalizi
Reuters
, September 20, 2011
KABUL (Reuters) - A Taliban suicide bomber on Tuesday killed Burhanuddin Rabbani, former Afghan president and head of the government's peace council, a dramatic show of insurgent reach and a heavy blow to hopes of reaching a political end to the war.
The killing was a strong statement of Taliban opposition to peace talks, and as the latest in a string of high-profile assassinations will increase the apprehension of ordinary Afghans about their future as the insurgency gathers pace.
Since Rabbani was a prominent Tajik, his killing is also likely to exacerbate ethnic divides, which in themselves could do more to halt any peace process than the death of a man who while influential, had so far produced limited evidence of concrete steps toward negotiations.
"A Taliban member who went to Rabbani's house for peace talks detonated a bomb hidden in his turban," a statement by the Kabul police chief's office said.
A police source said Masoom Stanekzai, a senior adviser to President Hamid Karzai, was badly injured in the attack.
It was the highest profile assassination in Afghanistan since the younger half-brother of President Hamid Karzai, Ahmad Wali Karzai, was killed at his home in July by a highly trusted family security guard.
For complete story, click
here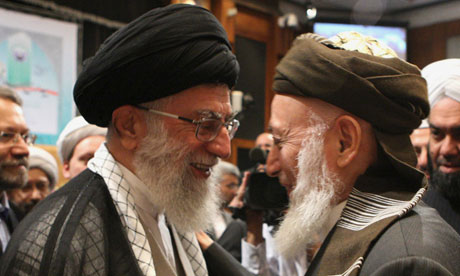 Related
:
Slain ex-President Burhanuddin Rabbani: Snapshots of Afghanistan's tortured political history
- MSNBC
Assassination Deals Blow to Peace Process in Afghanistan
- NYT
Assassinations in Afghanistan
- Washington Post
Profile: Burhanuddin Rabbani
- BBC