Three Major Debating Issues in Pakistan Today - Involving Veena Malik, Sherry Rahman and Raymond Davis
1.
Veena Malik and Social Tyranny
Nadia Naviwala,
The Express Tribune,
February 2, 2011

The discussion on the Veena Malik controversy has centered on her "Frontline" interview with Kamran Shahid. However, I was more disturbed by Abdur Rauf's "50 Minutes" on Geo TV, which came on two hours earlier. In a town hall-style format, dozens of people in the room, goaded by their host, parroted the same opinion: Veena Malik had shamed Pakistan as a country and culture.
I understand that many Pakistanis feel this way. But was there not one audience member who had an inkling of doubt, who worried about the implications of condemning a woman based on what she wore or did in another country, or just outright disagreed? There was one, but she was silenced. If there were more, we would never know. The atmosphere was decided, and it intimidated anyone in the room with a minority view to stay silent or convert to the dominant opinion. The show seemed more like a hoax trial before a witch burning, rather than a real discussion meant to inform a national audience.
You don't need to have seen the programme to understand what I am talking about. What happened on "50 Minutes" is a microcosm for what is happening in Pakistan more broadly: Tyranny of the minority — in this case, an intellectual minority — by the majority.
For complete article, click
here
Related
:
VIEW: Why is Veena Malik important?
—Zaair Hussain -
Daily Times
Civil versus political society
- Raza Rumi, The Express Tribune
2.
Sherry says she will abide by party's decision
Daily Times
, Feb 5, 2011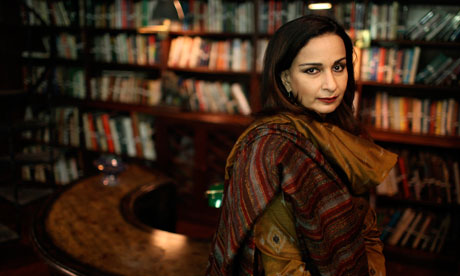 ISLAMABAD: PPP MNA Sherry Rehman, while commenting on the prime minister's statement that she has agreed to withdraw her bill proposing amendments in the blasphemy law, said she was not consulted on the matter but she would abide by her party's decision. Sherry said that as the committee announced by the Pakistan People's Party (PPP) to amend laws had been disbanded and the PM had decided there would be no discussion on procedural amendments, she would accept her party's decision. "There was never any question of withdrawing the bill as the speaker had never admitted it on the agenda. Had it appeared on the agenda perhaps some of our colleagues would have understood that it was not suggesting any repeal of the law, but protecting our great Prophet's (PBUH) name against injustices done via procedures introduced by Ziaul Haq," she maintained. "The changes I had submitted were: innocent people be given a chance to prove their innocence like in all laws, cases be tried at the higher courts, that penalties be given according to the holy Quran and that no one who makes false charges in the name of the Prophet (PBUH) who swore always to defend the innocent and the vulnerable go unpunished," the MNA added. staff report
Related:

3. The (Very) Strange Case of Raymond Davis
Adil Najam, Pakistaniat.com, January 30, 2011
Strangely, the more we get to know about the case of Raymond Davis, the less we seem to know. Even more strangely, the fact that the entire incident happened in broad daylight and in front of dozens of witnesses seems is itself confusing the facts rather than adding clarity. Moreover, it seems that no one seems to want to get much clarity either; although different parties may want different parts of the story to 'disappear.' The incident was rather eerie and disturbing to begin with; and it continues to become more so.
Here is what one does know. Raymond Davis, a staff member of the US Consulate in Lahore shot two Pakistani men dead on Thursday in a crowded part of Lahore (Mozang Chowk), according to him in self-defense. A US Consulate vehicle that rushed in to 'rescue' Mr. David then ran over a third person, who also died. A murder case was then registered against Raymond Davis, who was handed into police custody. A case has also been registered against the driver of the US Consulate vehicle that ran over a third person, but the driver has not yet been apprehended. After a fair deal of scrambling by both US and Pakistani officials on what to do or say, the positions of both have now started becoming clear and they have taken the stance that is usually taken in such cases: the US is asking that Raymond Davis, as a diplomatic functionary, should be handed back to them; Pakistan seems to be responding that the matter is sub judice and should take its course.
For complete article, click
here
Related: